This summer I was asked to speak to a group about my creative process. I offered to create a video, because my process is in the living color! So this is my first video, showing the process of making two of the paintings for my Lily Pads exhibit. It's 9 minutes. P.S. The group responded well!
Abstract artist Julie Bernstein Engelmann demonstrates her creative painting process (acrylic and poured latex) and discusses the Spirit in the paint. Beautiful music by composer Bruce Mitchell. 9 minutes.
Lily Pads
I was fortunate to be offered the second-ever exhibit at The Artists Hand Gallery, our new art center in my town of Indiana, PA. Here is the postcard: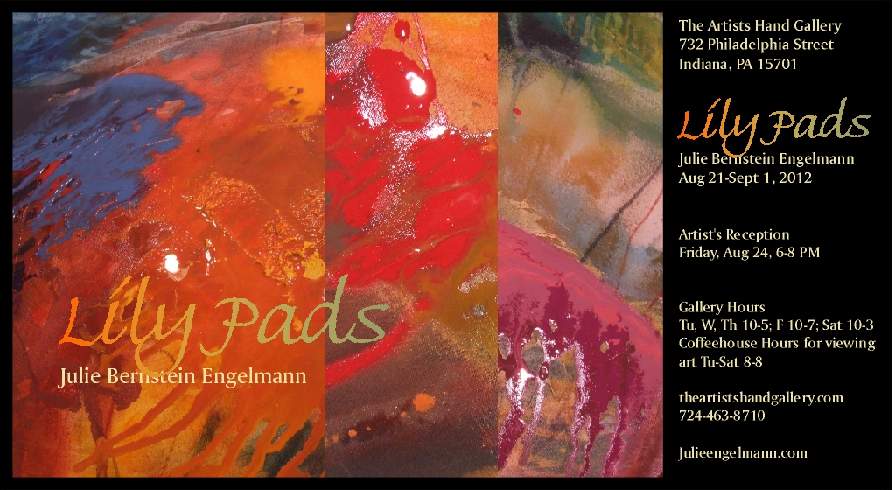 Why Lily Pads?
Artist Statement for Lily Pads exhibit (excerpt)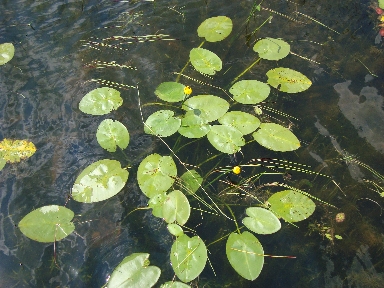 This summer I took my annual sojourn to northern Wisconsin. On a day trip, our pontoon ambled through a chain of lakes and channels to a secluded area strewn with lily pads.
I was struck by the majesty of the water lilies: their confident blooms bursting forth from the impervious, sashaying leaves swaying above the secretive, sinuous stems swishing in the undertow. I took countless pictures.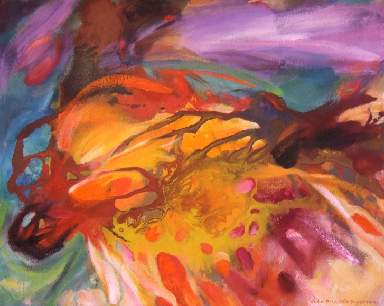 Back in Indiana, Sandy asked me whether I had come up with a title for my show. In a leap of faith, I decided to create my show around that inspiration, even though I only had three weeks to prepare new paintings. Luckily, many of my current paintings fit the feeling of the theme: bold yet fluid. I set about creating several new pieces.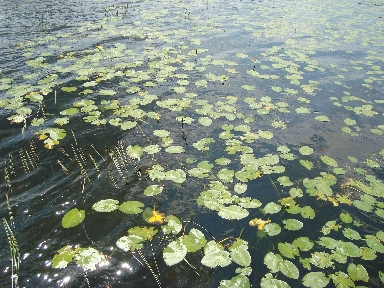 You may notice some interesting titles. These are taken from my journal. I name my paintings before I paint them. I don't always keep the titles, but they provide a meaningful starting point for my embarkation from blank white canvas into the land of discovery. They guide me along the way, and they usually turn out to be uncannily suitable.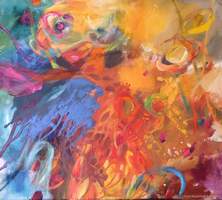 Color – joy – refreshment – intuition in overdrive – unexpected, thrilling color-texture blends – lush beauty and tactility – childlike freedom – releasing the left brain – being alive to this moment : these are reasons I create art. Can you see them in the paintings?
– Julie Bernstein Engelmann, August 21, 2012
Best of Show
Earlier this summer I was very proud to receive the Best of Show award in the Indiana Art Association 71st Spring Show at the Indiana University of Pennsylvania Museum. It was a big surprise, because there were several other pieces that could easily have taken the award. Here is the winner: Saved by Flaw 36″Hx40″W.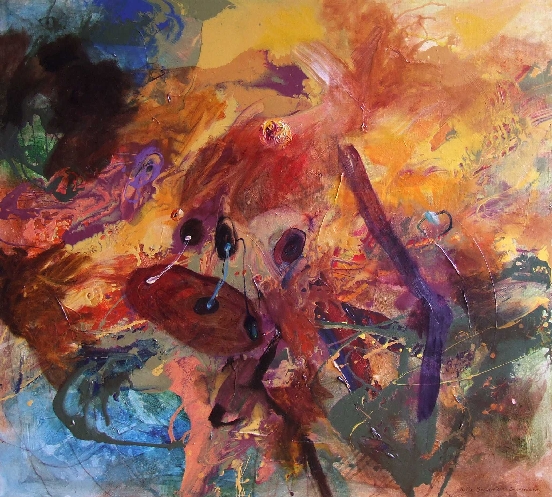 Best Art Sales
Thanks to my wonderful patrons and dear fans, I had the best summer ever in painting sales. I sold 17 paintings through my Silent Auction, plus three more after-auction sales. On top of that, two realistic commissions paid for my summer travels to Ontario and Wisconsin–a great way to go.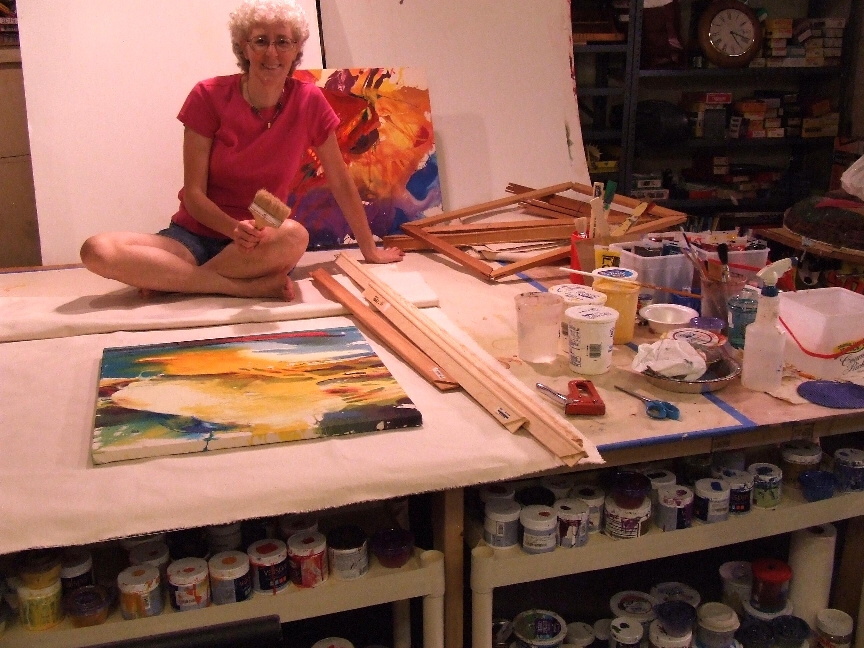 So I have had a very good summer and am looking forward to a fantastic fall. I hope you are, too!
Yours, Julie