What a wonderful turnout and enthusiastic audience for my Lunch a l'Art talk for my Being Spirit exhibit at the Southern Alleghenies Museum of Art at Altoona, PA. Here are some photos and snippets from my talk on March 13, 2013.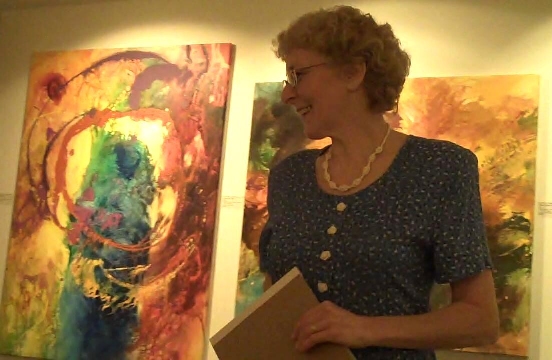 "I found that latex and acrylic complemented one another. The color range was vast, and the variations of fluidity were exciting. I could make what I call a beautiful mess to start with, and then go in with my brushwork and give form to the painting, and add things to create — well, I never know what!
"I pick up on the stories in the paint, and I start adding depth, and make it into shapes, and the vibrations start to come into tune. As some parts come into tune, the other parts–it becomes apparent what needs to happen. And by the time I've worked it through, there comes a moment when the entire painting jumps into 3D, like a hologram."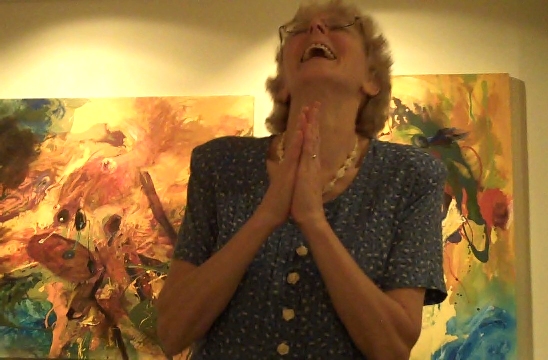 "I began to take pieces out of my journal and use them for starting points on my paintings. You can see, some of the titles are kind of long and unusual, and I think that they're fun, because sometimes they're even a spiritual exercise of their own.
"But once I started working with these ideas, so they were more personal, it became much easier for my intuition to kick in. And I began realizing that I was actually working with the paint as a co-creator, that the paint had a consciousness about it. I began realizing that I wasn't alone in what I was doing. And it was a huge revelation. I can't tell you how this turned the corner for me."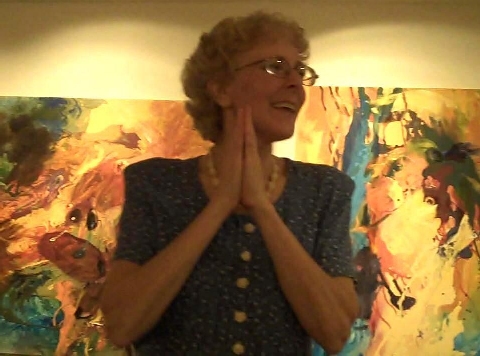 One more special event will take place before my exhibit closes on April 20, and that is my Artist's Reception on April 13. Guess what! A choreographer who came to my talk got inspired to create a dance, and will be performing it, along with some other dancers, at my reception!
Here is the description:
"Finding My Voice" is a modern dance choreographed by Jennifer Park, based on an exploration of Julie Bernstein Engelmann's creative life as it transfers from canvas to dancers. Inspired by many of the stories behind Julie's abstract paintings, the dancers frame the works through movement, stillness, voice, reflection, and energy. Witness as the dancers communicate from painting to body back to painting… and eventually to you. We hope you will feel inspired to join in!
Please click to Exhibit and Event Info for all the details and to RSVP. I hope to see you there!