For Artists
Paint inspired abstracts


Click directly down to:
Workshops
- The Inspired Abstract
Artist Mentoring
- Beauty & Spirit Art Consult
- Art to Heart


Dear Artist,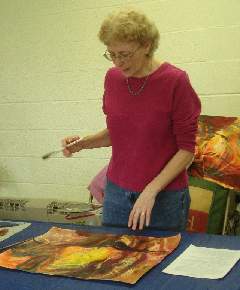 When you see abstract paintings that thrill and inspire you, the possibilities seem endless. "I want some of that!" your heart sings. Yet in the studio, do you find it can be hit or miss, leaving you wondering "Is my work good? Is there more?"

Does anyone understand what you are trying to do in abstract painting?

My name is Julie Bernstein Engelmann, and yes, I understand! I help artists like you gain the skills and insight to paint beautiful, fascinating abstracts. Further, I help you understand your strengths and see your art through professional eyes.

I invite you to work with me through Workshops or Artist Mentoring.



Workshops


The Inspired Abstract
Birthing your beloved and mysterious artwork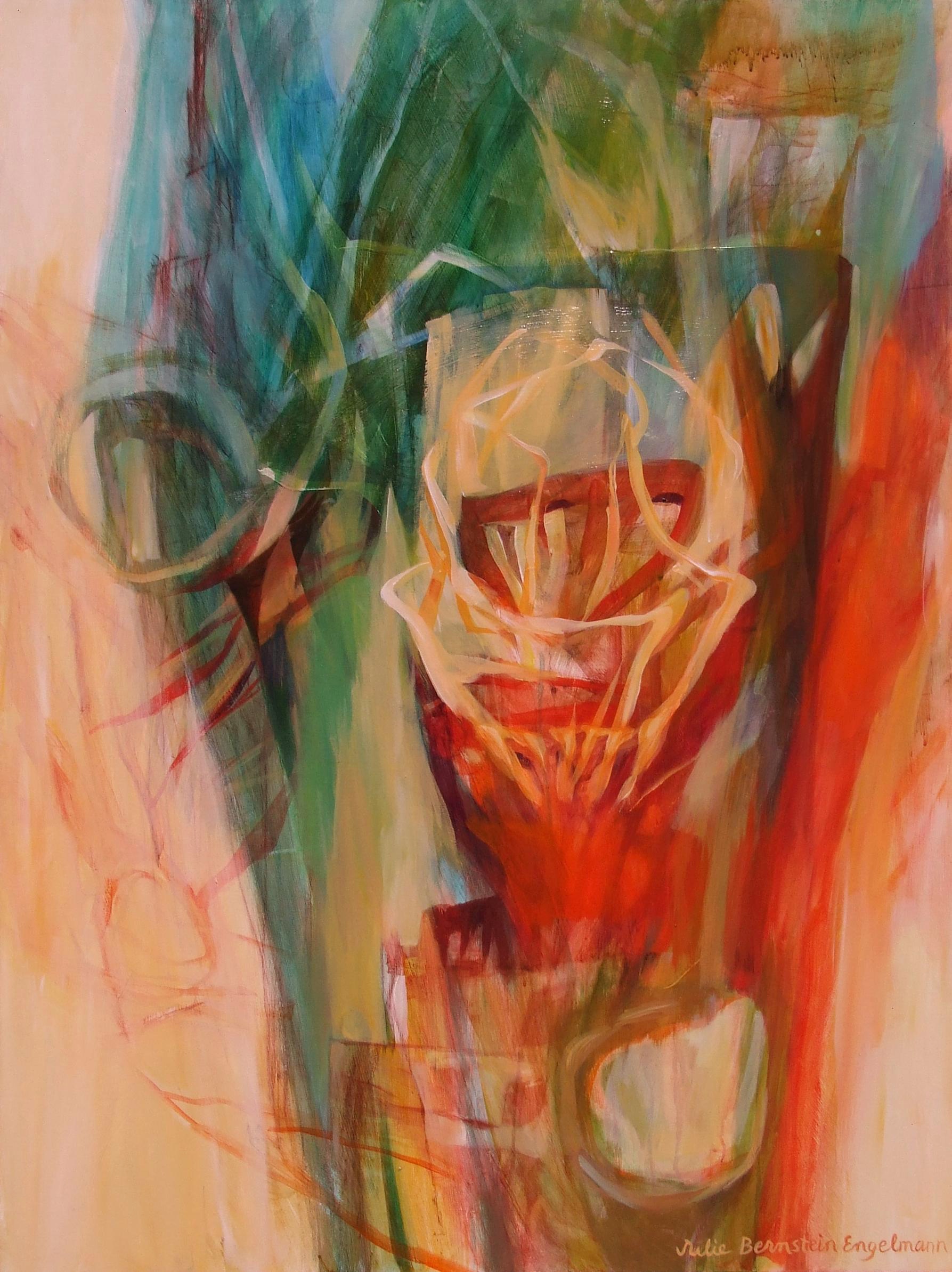 3-day workshop with Julie Bernstein Engelmann
Three opportunities:

February 17-19, 2019 - Sedona, Arizona
March 29-31, 2019 - Tucson, Arizona
May 3-5, 2019 - Sedona, Arizona

Inspiring moments can become richly beautiful abstract paintings!

In this workshop you'll experience a layering technique that gives you a powerful foundation for abstract painting. You will:
Enter the painting process naturally, develop a deep and luscious visual space, and weave exquisite personal marks and forms that grow from your seed inspiration.
Learn how to find the spirit in your painting and gently enhance its drama so it can shine powerfully.
You'll also:
Discover the helpful relationship between imagination and the raw beauty of paint and gesture.
Use the full power of background, middle ground, and foreground in abstraction by understanding the proper role of each.
Find out how to approach your painting differently when you're in the mood for form vs. fluidity.
Learn ways to vastly deepen your painting's visual space.
Gain liberating hands-on tips to improve color mixing and color harmony.
See how to move forward more productively by replacing criticism of your painting with support.
Observe how "surgical" changes to the flow of a painting can stunningly transform it from disappointing to great.
Distinguish what kind of finishing touches are needed to bring your painting into focus.
Whether you're a longtime artist or new to painting, Julie will guide you through the process of turning inspiration into soul-satisfying abstract paintings. You'll leave with two acrylic paintings that embody meaning, naturalness, and spatial depth and flow - qualities that lift an abstract painting from amateur to professional.

Along the way, you'll gain discernment and come to understand abstract painting much more deeply.

Julie will give demonstrations, enlightening discussion, group critique, and plenty of one-on-one time. You'll also receive Julie's valuable checklist: "Critique Points for Abstract Painting," an essential painting-rescue kit to keep handy in your studio. All experience levels are welcome.

For supplies to bring, click "Show more" below.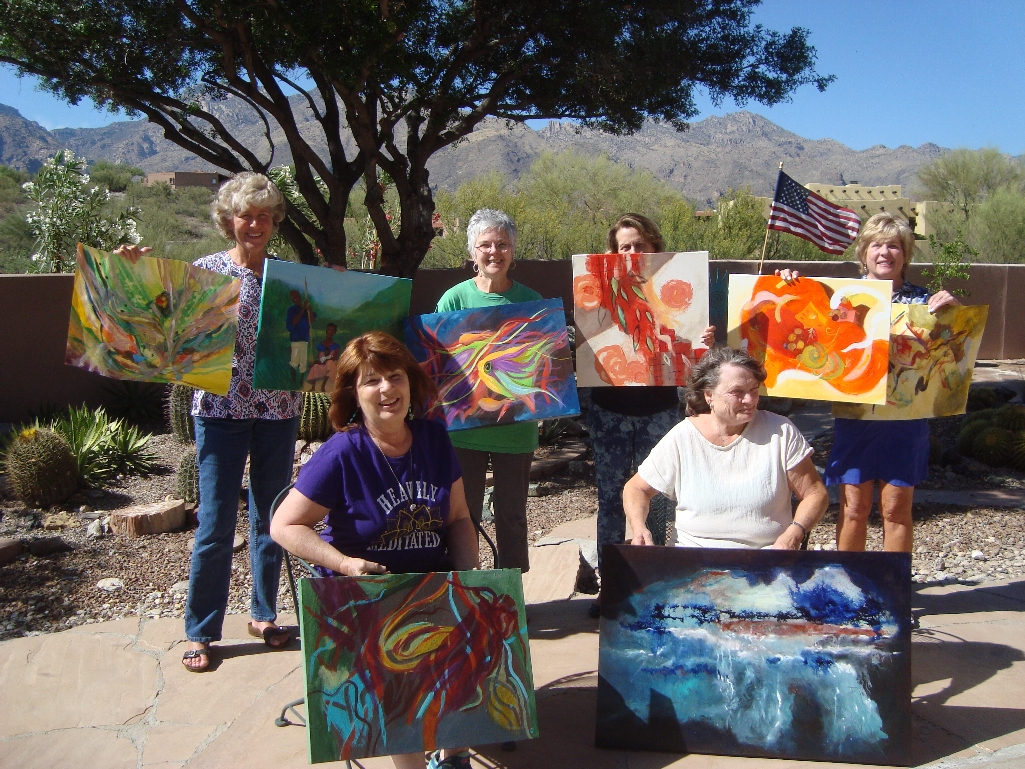 Registration - February in Sedona
Dates: February 17-19 (Sun-Tue), 2019
Time: 12 noon-6 pm
Location: Sedona Arts Center, 15 Art Barn Road, Sedona, Arizona
$380. (25% of proceeds benefit the Sedona Arts Center)

Registration - March in Tucson
Dates: March 29-31 (Fri-Sun), 2019
Time: 9:30-4:30 (with an hour for lunch)
Location: Visual and Textile Arts of Tucson, Room 206, Dunbar Center, 325 W. 2nd St, Tucson, Arizona
$325. A non-refundable deposit of $100 will reserve your place, with balance due by March 16.
Use this button or mail check (see address* below supplies).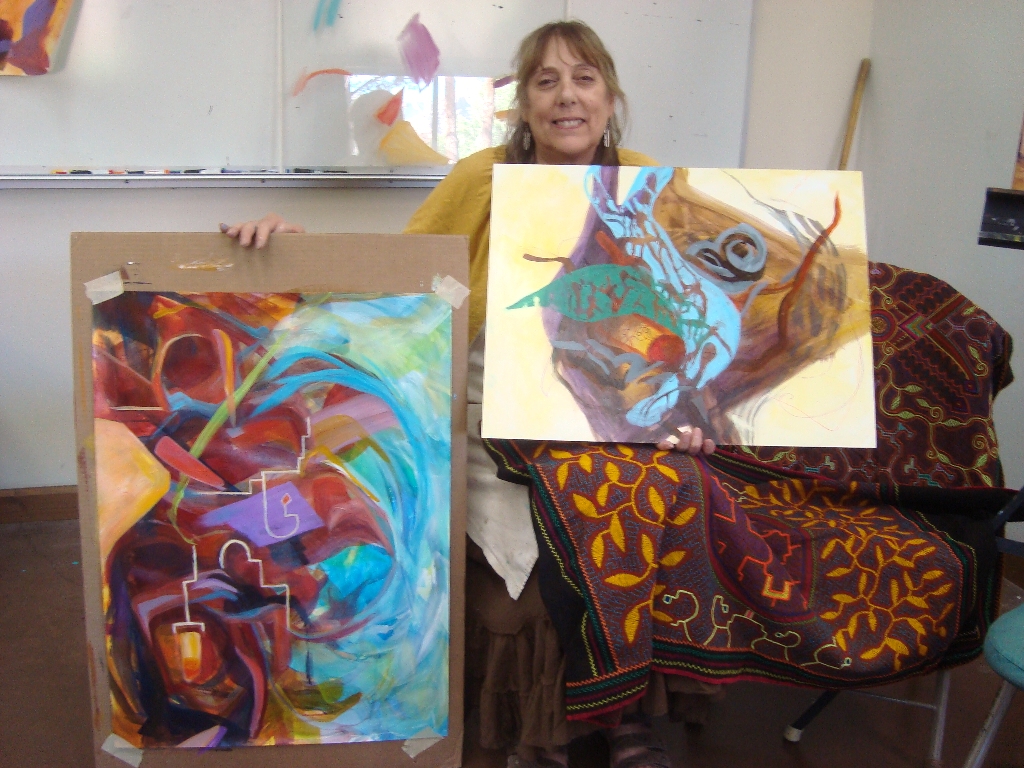 Registration - May in Sedona
Dates: May 3-5 (Fri-Sun), 2019
Times: Fri 10-5, Sat-Sun 9-4 (with an hour for lunch)
Location: Sedona Arts Center, 15 Art Barn Road, Sedona, Arizona 86336
Tuition: $380.
Information & Register

For supplies to bring, click "Show more" below.


Show More...
Upcoming 1-day Workshop in Cottonwood, Arizona
Layers of Luscious Abstraction
1-Day Workshop with Julie Bernstein Engelmann
Saturday, May 25, 2019, 9:30 am-3:00 pm
El Valle Artists Association
Pine Shadows Club House, 2050 W State Rt 89A, Cottonwood, Arizona
All experience levels welcome
Registration Information $55/member; $65/non-member

Rich, unique abstracts. Julie's layering technique gives you a powerful foundation for abstract painting and helps you enter the painting process naturally. You'll ease into your own personal marks and forms and weave beautiful depth and complexity. Then Julie will demonstrate how to find the story in the "beautiful mess" and bring it out by enhancing its drama and visual flow.

You'll leave with an acrylic painting that embodies three vital keys to successful abstract painting: meaning, naturalness, and spatial depth and flow. Along the way, you'll gain discernment and come to understand abstract painting more deeply.

Note: This workshop will not offer much personal attention, because there will be quite a few attendees from the sponsoring art group and the time is short. It is more a guided process.

For supplies to bring, click "Show more" below.


Show More...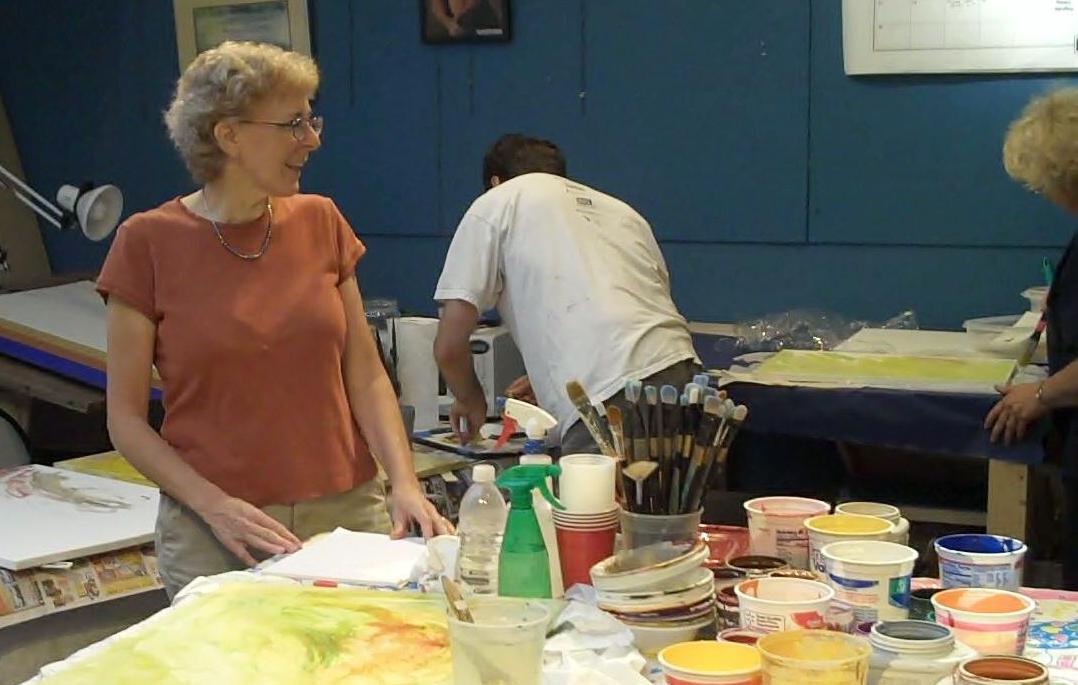 "Julie is fun, sweet, kind, enthusiastic, and a great teacher! She has the ability to help us see our artwork with fresh eyes looking for the good instead of focussing on the bad. It was a wonderful experience and I will take another class with her one of these days!"

"Very encouraging style; even her critiques were uplifting rather than downcasting."

"Julie is an excellent instructor. Her feedback was honest and sought after by everyone in the class. Her style of teaching resonated with me and I was able to walk out of the class with all of my goals met. Her passion for what she is doing is absolutely inspirational!"

"I love Julie: Her art, her teaching style, and as a human being. She always makes a workshop a delightful experience."

"I had been hoping to get some insight into painting abstractions, and possibly learn to 'free up' my style. Julie provided both, and so much more. Not only did she provide ways to 'tap into' and express our own individual uniqueness, she also shared the keys to making good abstractions, including color theory and mixing, composition, layering techniques, and other fundamentals of art. I learned so much! Her teaching style and personality gave us students the confidence to move forward, and her critiques were brilliant as she shared her experience about just what we needed to bring our paintings 'over the top.' I would take other classes from her and I recommend her highly."

"Julie was fantastic! I so appreciated her patience and kindness."

"Your art class was such a blast! It exceeded my expectations in every way!"


Want abstraction for your art group?

I can help your art group get a better grounding in abstract painting through a workshop, demo, critique, residency, collaborative mural, judging or jurying. Please email me your interest.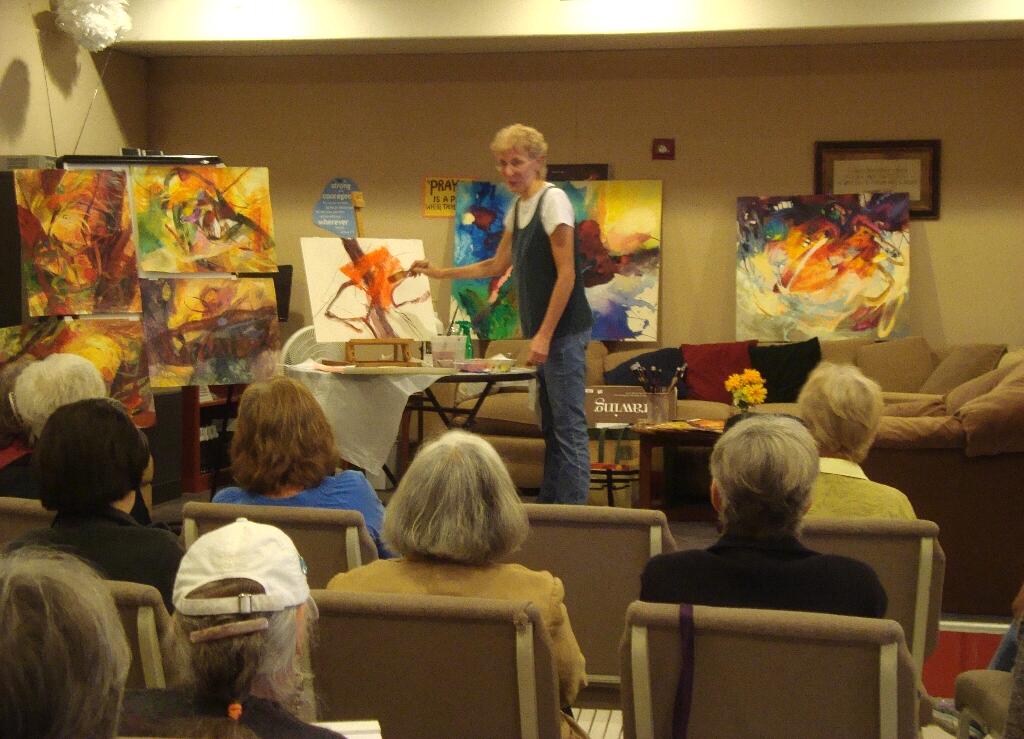 "Julie - what can I say! you were great! you did everything one could expect from a work shop: good demo showing your step by step technique, wonderful personal contact & critiques, sharing completed works & the feelings one can get from the paint colors & shapes - AND THE WONDERFUL HANDOUT - I enjoyed it immensely as I am sure everyone did - Thank you so much - sincerely,"


- Patti Giordano, artist and Programs & Classes Coordinator, East Suburban Artists League, Murrysville, PA
"Thank you for such a fun workshop! As you already know, I really enjoyed myself. Your ability in critiquing is outstanding. You are gifted in tuning into the artist and the painting. It is very impressive."


- Marva Harvey, artist and Program Coordinator, Contemporary Artists of Southern Arizona, Tucson, AZ
"I told you how beneficial the demo was. I neglected to say how much I enjoyed the lecture portion of your presentation and found the comparisons between a wow painting and a not so wow one particularly valuable. I could instantly see the difference in the paintings."


- Carolyn Starbuck, Contemporary Artists of Southern Arizona, Tucson, AZ
Artist Mentoring
Beauty & Spirit Art Consult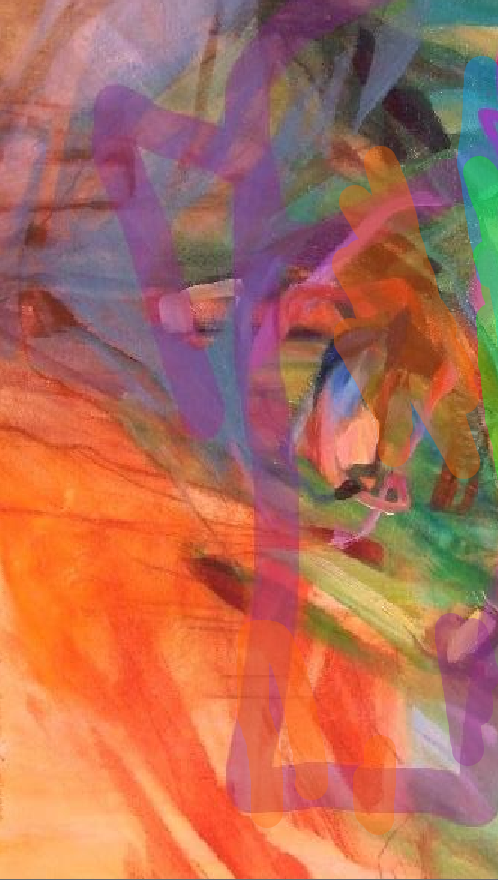 Do you resonate with my work or feel like possibilities are opening up for you in abstraction? Artist mentoring or an art consultation gives you the chance to freely discuss your artwork with me.
I will listen and look carefully with attention to your unique path in art;
shine light on your strengths;
discuss each piece in insightful detail, demonstrating relevant critique points;
help you see the spirit in your paintings (especially the ones you're stuck on)*
address your questions and concerns; and
nourish joy in your art process.
*Do you have paintings sitting around unfinished because you became disappointed in them? Let's look with fresh eyes! Most unfinished paintings are much closer to being fabulous than you may realize! Starting with what you love, we'll talk about how your painting can come into its own. I'll demonstrate by making annotations online. Like a surgeon, I honor your painting's life force and will show you the minimum precise cuts and sutures to bring health to the system!
"It's amazing what you've saved of my work that I thought was useless."
- Laurie Giangregorio, artist, Tucson, AZ
Mentoring is done by phone and web, conveniently and effectively. The session can be recorded to listen again.
Visiting Sedona, Arizona? Consult with Julie in person (minimum 2 hours).
Artists who continue with mentoring discover that momentum builds unprecedented productivity and transforms them as an artist. I invite you to experience this support and the difference it makes.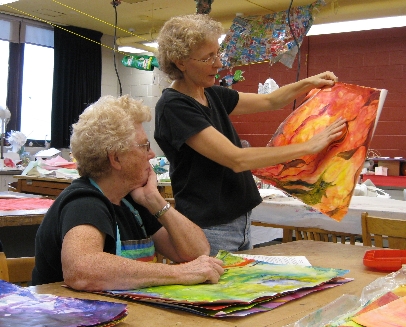 $90 Art Consult or Mentoring hour with Julie:
After payment, wait to be redirected to a
Thank You
page. From there, you'll click to:
"Here's How It Works," which gives important information, and
my calendar to schedule your session.
Questions?

Email me

.

Thank you!


Questions? Email me.


In the love of your beautiful and unique expression,

Julie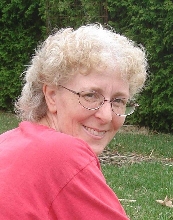 Julie Bernstein Engelmann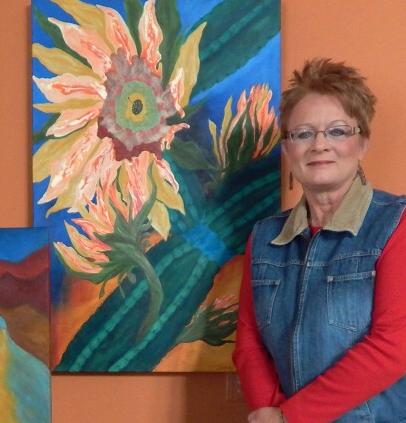 Julie, I am amazed by how much I learn in each of our sessions!!! I love our telephone sessions and how you are able to teach me and guide my painting, despite the fact that you are across the country. The recordings are so helpful and I refer back to them frequently. My time in the studio is so much more fun because I have new direction and I am not just guessing at what to paint. I have gone from not painting at all, to spending several hours a day painting and loving it!

I can't thank you enough for helping me submit and be accepted to my first juried art show!! I look forward to our continued sessions and hope I will get the opportunity to attend more of your workshops.

I love your painting and the title 'Is it Really Okay to Feel this Good?' and I ask myself that often when I am painting!


- Sandy Duckett, Phoenix, Arizona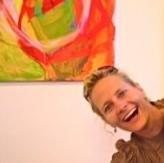 Julie, you are such a powerful presence in my life. As a painter, I have such a strong desire to express myself. I love to revel in the freedom of making marks with paint and ink that I am deeply drawn to make, and to powerfully feel the mystery and energy of my Being made manifest. As my mentor, I feel like you have literally helped me look, and as a result, see what I am doing from a visual perspective. What a gift! Something that is so personal is something that I can more easily share now.

Having a consistent connection with you over time has allowed me to mark the evolution of my enjoyment and awareness as a painter and art creator. Your specific awareness of abstract art is helpful and grounding. With you at my side I feel like I have the support to go as far and as deep as I want to with my art. Thank you.



- Katie Harrington, Burlington, Vermont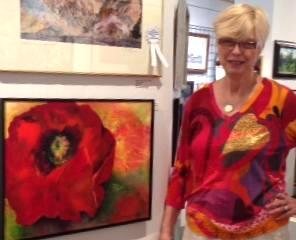 Before I met Julie Engelmann my art work consisted of sporadic, realistic watercolours. Julie's classes and mentoring opened up a whole new avenue for me; I had not previously been exposed to abstract/expressionist painting. I love the freedom, creativity and new color sense that I feel when I paint in this "new" style.

I have continued along this new path, incorporating abstract expressionism with my realistic tendencies. Julie's mentoring has motivated me to produce more paintings than I ever thought I would do on my own.

Even though her own style is very abstract, Julie has a broad background of art knowledge and experience to bring to any style of painting. Her critiques are always honest, insightful and positive which makes them all the more helpful. I believe she has enabled me to take really big stride in my growth as an artist.

As a result of Julie's mentoring, I have won several awards in local art shows. My latest was a first place in the non-professional category. I have sold several paintings through our local art gallery.



- Julie Knox, Indiana, Pennsylvania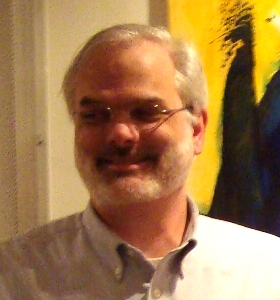 In her critiques, Julie has a gift for getting to the heart of the matter. She sees at once where positive changes can be introduced and how any composition can be made stronger. She pulls no punches, but even the faintest of hearts will feel well-supported, as she conveys a genuine sense of believing in the artist and his or her potential.

As an "artist's artist," Julie knows how to develop that potential and how to help anyone chart a believable course toward artistic fulfillment. I see not only rapid improvement in my work, but new possibilities for showing and marketing it. Thanks to Julie's remarkable encouragement and mentorship, I'm well on my way, and I give her my highest recommendation as I go!


- Scott Dimond, Topsham, Maine
Beauty & Spirit Abstract Artist Circle
Follow me on Facebook





Click back up to:
Workshops
- The Inspired Abstract
Artist Mentoring
- Beauty & Spirit Art Consult
- Art to Heart

See Also:
Abstract Painting Spirit 9-minute video
CV including teaching


Back to top



&copy 2013-2019 Julie Bernstein Engelmann
Photo of Julie's East Suburban Artists League workshop, Murrysville, PA, by Minda Bernstein &copy 2013
Video still of Julie's Indiana Art Association workshop, Indiana, PA, by Scott Dimond &copy 2013
Video still of Julie's Indiana Art Association workshop, Indiana, PA, by Chip Engelmann &copy 2013
Photo of Julie's demo at El Valle Artists Association, Cottonwood, AZ, by Elaine Bomkamp &copy 2015
Video still of Julie painting at Indiana Art Association workshop, Indiana, PA, by Julie Bernstein Engelmann &copy 2014
Photo of lone painter, Community Arts Center of Cambria County, Johnstown, PA, by Julie Bernstein Engelmann &copy 2014
Portrait of Julie in grass by Minda Bernstein &copy 2013
Photos of mentoring clients submitted by each respectively, except Scott Dimond, by Chip Engelmann &copy 2013
Paintings &copy Julie Bernstein Engelmann