The
Beauty & Spirit Abstract Artist Circle
is a community of learning and joyful support for your abstract painting practice.
It is for artists who have attended* my
Inspired Abstract
workshop and want further hands-on
learning, mentoring, accountability, sharing
and
support
.
We'll meet on Zoom monthly for five months, October 2021 through February 2022, on the last Sunday of the month. See schedule below.
Sessions are 3 1/2 hours, to include:



check-ins and sharing


three live, hands-on mini-workshops over the 5-month period


mentoring for your works-in-progress + working time while listening and learning from others' mentoring


bonus lessons on spatial depth and other topics that meet your needs



Lessons will be recorded for access during the month.


Post photos to an online class forum anytime for interim feedback.
Attendance is limited to 5-11 per circle.
Register
in full $399 (or split into two payments of $205, second payment due before third session)
Schedule

Oct 31, 2021 at 10:30-2:00 AZ / Pacific time
Nov 28, 2021 at 10:30-2:00 AZ / Mountain time
Dec 26, 2021 at 1:30-5:00 p.m. (this month only) AZ / Mountain time
Jan 30, 2022 at 10:30-2:00 AZ / Mountain time
Feb 27, 2022 at 10:30-2:00 AZ / Mountain time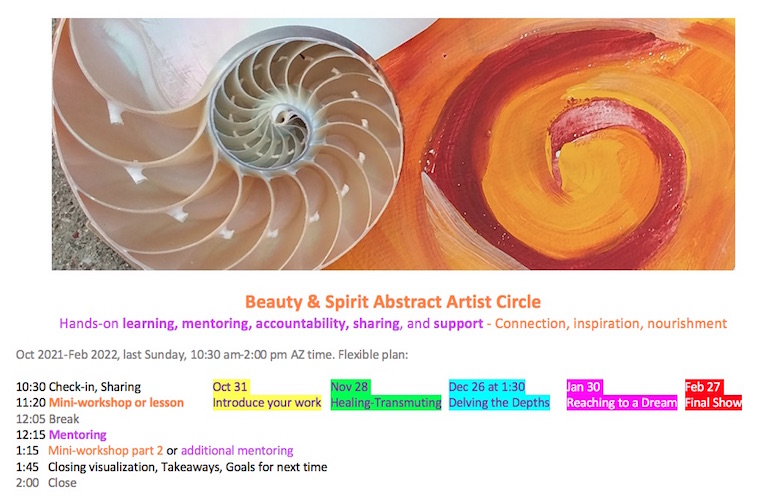 For a link to the recording of the Orientation, where you'll "meet" fellow circle members, please email me.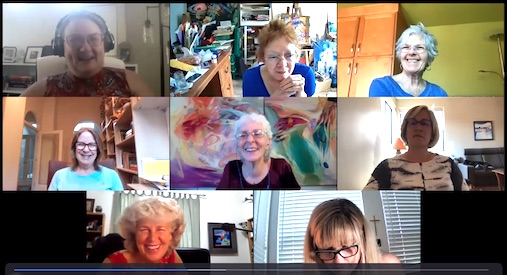 * If you are interested but have not attended my Inspired Abstract workshop, email me.

Questions? Email me. Thank you!