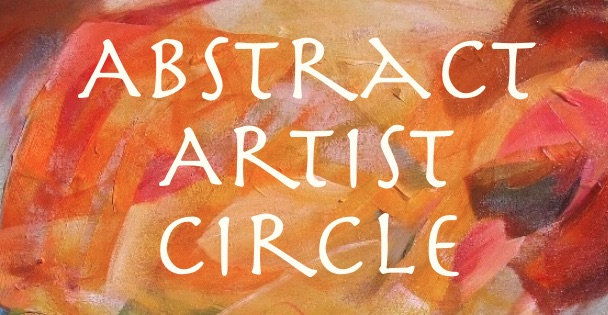 Are you driven to make better abstract paintings — without losing your authentic voice? Do you crave real feedback — because "likes" are no longer enough?

Gain discernment, growth, and confidence — in three weekly sessions per month of small-group learning, painting, sharing, feedback, mentoring, and support — without leaving home.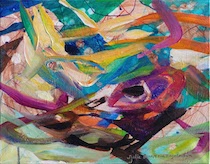 Sometimes there's a miracle in the studio. You wonder, "How on earth did I do that? Can I do it more often?"

Other times you may ponder, "Does this painting work? What's missing that could bring my piece to an awesome finish?"

Your friends may say, "That's great!" or "I don't get it," but you've realized they don't really understand the language you are trying to speak. Does anyone?

Yes! You've found your people. You're invited to join kindred artists in a circle custom-made to enliven and empower you as an abstract artist.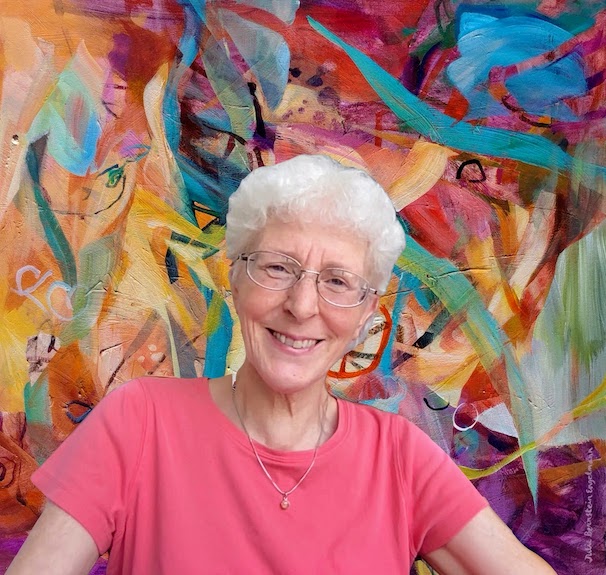 Here is what you get when you secure your seat:

• Motivation, growth and support: We meet on Zoom weekly (currently Monday afternoons), three times per month—then a rest. Using acrylics, each quarter we lean into a theme or approach; size is your choice. Each 2.5-hour session includes: a lesson or demonstration; hands-on painting time to incorporate the lesson; insightful feedback to train the eye; and mentoring to address your individual needs. Naturally, we share our artwork and experiences—and celebrate our wins! Circle size is limited to 7 so you get plenty of attention.

• Build on your foundation: If you have taken a class with me (or if not), you'll deepen your understanding, joy, and confidence. Creative visualization meets beautiful layering techniques—so you paint rich abstracts that are meaningful to you and compelling to others.

• Support between sessions: Email me with any questions. A step-by-step PDF handout and/or video demo is provided after instruction—so you can review key content for fresh inspiration and catch up if you miss a session.

• BONUS TRAININGS: When a practical topic of interest comes up, we hold a training and record it for bonus content. You also get free access to past training videos, e.g. Varnishing Your Paintings, Signing Your Paintings, Instagram Reels.

• BONUS EXHIBITION: If you continue in the Circle, you're invited to show your Circle paintings in a yearly Beauty & Spirit Abstract Artist Circle Online Exhibition!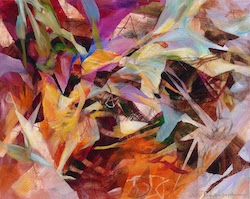 Circle Members Say:
"You have a way of critiquing where people feel good about their work, plus you get across your point. And it's just so fun. You bring up so many ideas—things we can mix up and try later. You're bringing out parts of ourselves being expressed into the paint—onto the canvas—while teaching how to paint. I'm not sure there's any other workshop like this. Your expertise—I could work with you for years and years. You're just so heartfelt—you have a love for doing this. It's so uplifting.

"Not that it's easy. These paintings are challenging. You're challenging us to go to another level with wherever we're at. And you know when to bring us to the next level and when to let us rest and gain confidence.

"You make room for a million different styles, while applying sound concepts that you're teaching us, like the ratio of dark to light, and bringing dark to the edge. It's made a world of difference. You have such a gift. I feel so grateful that you have chosen to partake in teaching. Julie, you're such an expert. The critique points sheet is so valuable. The Inspired Abstract process is such a rich teaching.

"Something you said that really got me is, 'At the beautiful mess, it's already a great painting. Now let's make it good.' I thought that concept was so life affirming, so hopeful and true, so unique. Validation that this creative intuition their soul has brought forward is already great—the act of creation made it great. Now we just have to make it good. Instead of what we've been taught, to work to get it from good to great."
- Michelle Hurteau
"A year ago, I joined the Abstract Artist Circle to have a more structured way of creating paintings in a supportive setting, with fellow artists. Julie's techniques kept me in touch with the freedom I wanted to express and prevented my over-obsessing too early in the painting process. Her approach allowed for incorporating the imagery I love into an abstract space. She teaches ways to give dimension and depth to paintings.

"It was really interesting how each of the artists developed in our own unique direction and style, even though we were working so closely together with similar prompts. It created a very fun and supportive atmosphere.

"Most importantly, it was a healing process of reclaiming my full self and becoming whole again. Through this artist circle experience, I reclaimed the joy and freedom of artistic self-expression to nourish my creativity and joy."
- Beth Bernstein
"When I first visited Julie's website, I was very intrigued by the beauty and expressiveness of her abstract paintings. Immediately I wanted to learn as much as I could from this talented teaching artist. My past ability to create abstracts was severely limited and I had finally found the person to bring me through that jump into abstraction.

"Julie's training and oh-so-patient mentoring on Zoom has been so impressive! I had created my first six abstract paintings and I needed to pull it all together — to know what was working and what my problems were. Julie spotted my weaknesses, such as stopping a shape short of the edge (instead of going off the edge), lacking sufficient darks to make the rest of the painting glow, and creating a focal point that has punch. Then we worked together to make a better composition, virtually showing possible solutions.

"Julie's patience, helpfulness and vast knowledge of art has been amazing and so nurturing. Her guidance has sent me on a wonderful creative adventure and has vastly improved my ability to analyze my own paintings—as well as those of others—with more understanding and appreciation. I have learned so much from Julie in such a short time. I heartily recommend her to anyone who really wants to make great abstracts."
- Lorna Cole
Beauty & Spirit Abstract Artist Circle
Email me
to be notified first when I open doors again
Limited to 7 seats, first come first served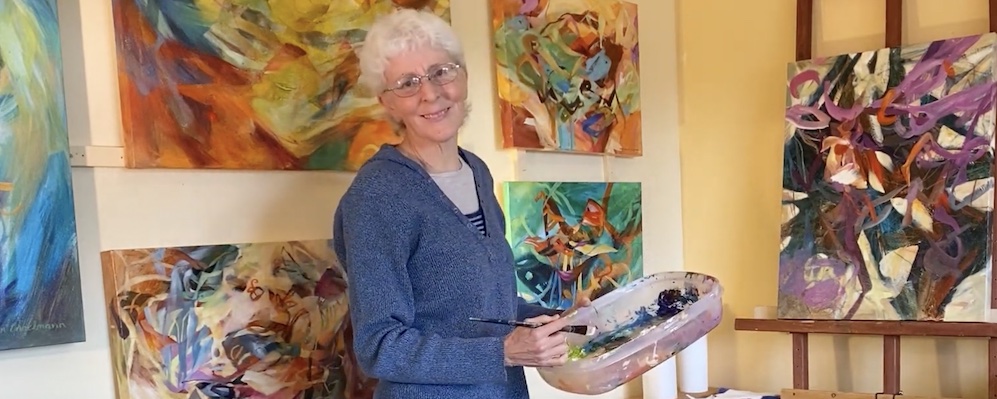 &copy 2022-2023 Julie Bernstein Engelmann.