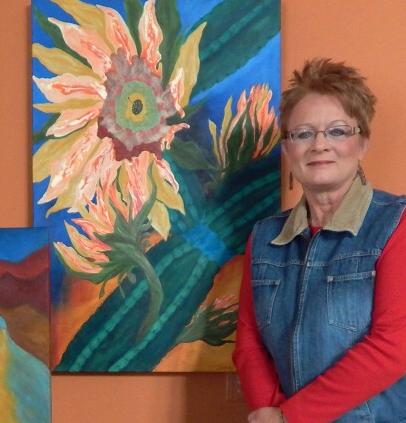 Julie, I am amazed by how much I learn in each of our sessions!!! I love our telephone sessions and how you are able to teach me and guide my painting, despite the fact that you are across the country. The recordings are so helpful and I refer back to them frequently. My time in the studio is so much more fun because I have new direction and I am not just guessing at what to paint. I have gone from not painting at all, to spending several hours a day painting and loving it!

I can't thank you enough for helping me submit and be accepted to my first juried art show!! I look forward to our continued sessions and hope I will get the opportunity to attend more of your workshops.

I love your painting and the title 'Is it Really Okay to Feel this Good?' and I ask myself that often when I am painting!


- Sandy Duckett, Phoenix, Arizona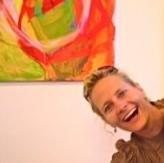 Julie, you are such a powerful presence in my life. As a painter, I have such a strong desire to express myself. I love to revel in the freedom of making marks with paint and ink that I am deeply drawn to make, and to powerfully feel the mystery and energy of my Being made manifest. As my mentor, I feel like you have literally helped me look, and as a result, see what I am doing from a visual perspective. What a gift! Something that is so personal is something that I can more easily share now.

Having a consistent connection with you over time has allowed me to mark the evolution of my enjoyment and awareness as a painter and art creator. Your specific awareness of abstract art is helpful and grounding. With you at my side I feel like I have the support to go as far and as deep as I want to with my art. Thank you.



- Katie Harrington, Burlington, Vermont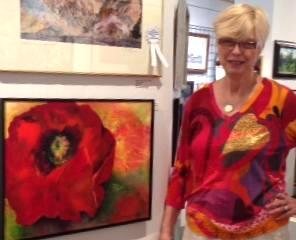 Before I met Julie Engelmann my art work consisted of sporadic, realistic watercolours. Julie's classes and mentoring opened up a whole new avenue for me; I had not previously been exposed to abstract/expressionist painting. I love the freedom, creativity and new color sense that I feel when I paint in this "new" style.

I have continued along this new path, incorporating abstract expressionism with my realistic tendencies. Julie's mentoring has motivated me to produce more paintings than I ever thought I would do on my own.

Even though her own style is very abstract, Julie has a broad background of art knowledge and experience to bring to any style of painting. Her critiques are always honest, insightful and positive which makes them all the more helpful. I believe she has enabled me to take really big stride in my growth as an artist.

As a result of Julie's mentoring, I have won several awards in local art shows. My latest was a first place in the non-professional category. I have sold several paintings through our local art gallery.



- Julie Knox, Indiana, Pennsylvania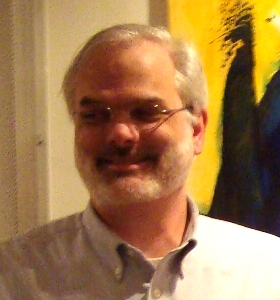 In her critiques, Julie has a gift for getting to the heart of the matter. She sees at once where positive changes can be introduced and how any composition can be made stronger. She pulls no punches, but even the faintest of hearts will feel well-supported, as she conveys a genuine sense of believing in the artist and his or her potential.

As an "artist's artist," Julie knows how to develop that potential and how to help anyone chart a believable course toward artistic fulfillment. I see not only rapid improvement in my work, but new possibilities for showing and marketing it. Thanks to Julie's remarkable encouragement and mentorship, I'm well on my way, and I give her my highest recommendation as I go!


- Scott Dimond, Topsham, Maine